Plastisol transfer labels
Plastisol transfer labels is a great way to personalize your printed garments with a custom neck label. All of our labels are screen printed with plastisol ink that you can transfer to your garments. Custom labels can also be used to print on masks, caps, sleeves and much more.
Order them in hot or cold peel variation.
Pricing table for labels up to 2″ x 2″ (price per label)
Setup fees : 20$ per screen (per color).
Pricing is per label per design. (for example : small size label and medium size label is not the same design). Overall quantity cannot be added.
Transfer labels instructions
Please note : your transfer label must be the highest point of your pressing platen. Make sure the top heat platen doesn't touch to any neck seams.
Step 1 
Remove all moisture from the garment by pre-pressing it for some seconds. Make sure there is no fume coming out from the garment.
Temperature
Make sure to set your heat press between 325F and 375F. (Our labels can be applied at lower temperatures on heat sensitive fabrics) If you don't have a temperature gun to mesure the temperature of your heat press, we suggest setting up your temperature a little higher.
Time
Recommended pressing time is between 7 and 12 seconds. Please make your own tests and adjust the time according to your heat press.
Pressure
The pressure must be set at medium-high pressure.
Step 2
If printing with cold peel transparent film : Place the label in the desired position and put a parchment paper on top of it (to prevent the transfer film from sticking to the heat platen).
Step 3
Once the time runs out open your press slowly.
Step 4
Hot Peel : Peel the label in an even direction.
Cold Peel : Place the pressed garment somewhere flat and let it cool down for at least 30 seconds. (You can always rub an old t-shirt over the transfer label to absorb the heat). Once cooled down, peel the transfer evenly.
*You can always re-press the transfer with a teflon paper for some seconds to increase durability and remove some excess of powder glue.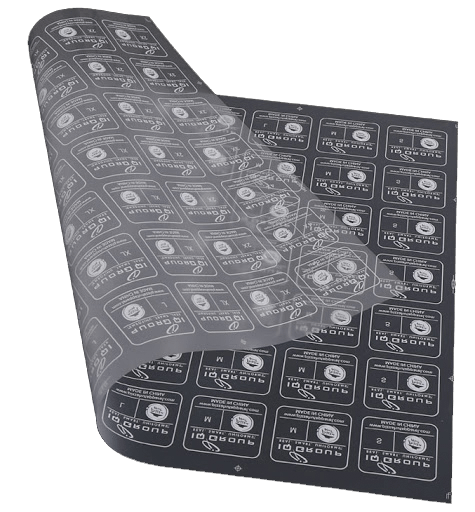 Start your custom project today
Visit our DIY customizer page and order your labels today. 
Single color labels are shipped within 1 day.