Full Color Printed Transfers in Canada

Three days turnaround!
Our full color transfers are printed on DTG flat bed printers with water based inks. It gives you a soft feel printing as a water based screen printed item, great stretching and great washability. Perfect gradients and bright colors.
The advantage between our full color transfers and direct DTG is that you don't need to pre-treat the garments before printing. Simply heat press the transfers and enjoy your garment. Another great thing is that you can apply them on 100% cotton, 100% polyester and 50-50 garments. As well as hoodies, pants and caps.
All of our transfers are printed in Montréal, Canada.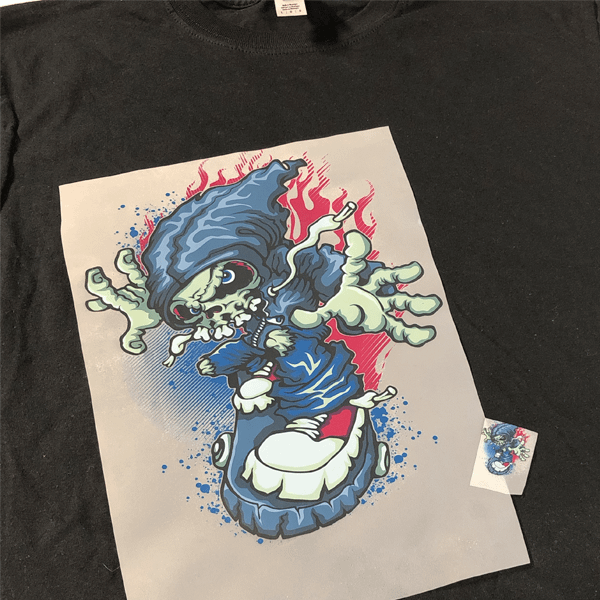 No Minimums and No Setup Fee
Printed on a 11″ x 15″ sheet.
Place as many designs as you want on a sheet
Three days turnaround for all orders up to 25 sheets. 
Four days turnaround for 25 sheets and more.
All designs must be 300 dpi and high res. on a transparent background.
Printed with the CMYK colors
Digital transfers are printed with the CMYK color mode. Please note, if you view your image in an RGB mode, you may convert it to CMYK. Depending on your monitor resolution and calibration some difference in color tone and shading may occur. We do not guarantee a 100% color matching. Contact us at
[email protected]
for any additional information.
Digital printed transfers are not suitable for halftones (gradients) that fades in the garments. A solid base is required.
Step 1:
Pre-heat the garment to remove moisture
Temperature:
Cotton : Heat press temperature – 310F – 320F.
Polyester : Heat press temperature – 280F – 300F.
Time:
Heat press time : 15 sec.
Pressure:
Light-medium pressure.
Step 4:
Wait for the film to cool down before peeling. Our transfers are printed on a cold peel film. You can use a teflon paper for protection
Step 5:
You can repress the garment and the design with a parchemin paper to increase durability.