Tested for more than 50+ washes!
Athletic transfers are mostly used for sport items, small and medium size labels, jackets and caps.
Athletic transfers are printed on a cold peel release paper. Prevents dye migration.
Cold peel transfers have excellent opacity because all of the ink is transferred on the garment. 
Cold peel transfers are more suitable for fine art such as small lettering on neck labels and halftones images.
Matte finish transfers look.
Transfers are printed on a 12″ x 16″ gang sheets. Place as many designs as you want on one sheet. 
Cold peel transfers are easier to use for non experienced printers. There is more space for error. You can request a hot peel transfer to try when purchasing the cold peel transfer.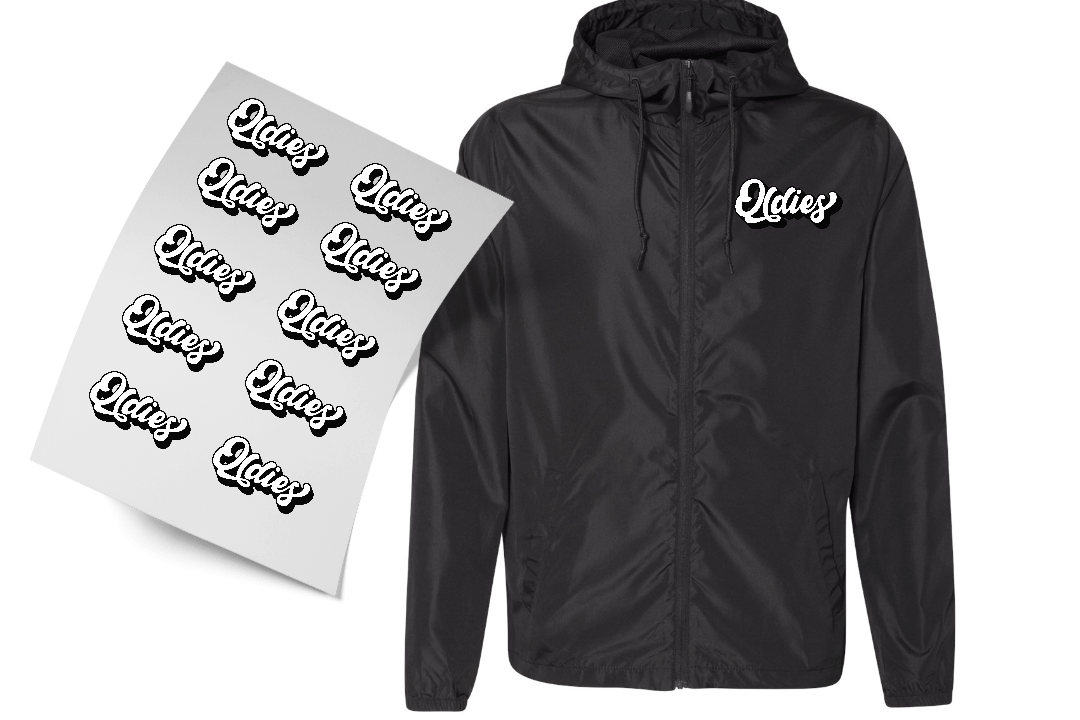 Features :
Great opacity
Stretchable
Matte finish
Medium hand feel
Screen printed
Fabrics to use on :
100% Cotton, 100% Polyester, 50/50 Cotton/Polyester, Tri-blends, lycra, nylon
Garments:
T-shirts, fleeces, polos, long sleeves, sweatpants.
Masks and sportswear
Jackets, gloves, work wear (at lower temperatures)
Instructions :
290F – 335F for 8 seconds, medium/firm pressure. (High opacity)

Peel cold.
Pricing per sheet.
Different sheet designs can't be added together. 
Art Specifications
Online orders : upload your prepared sheet (12″ x 16″) to our customizer page. Resolution must be 300dpi. Transparent background. All artworks must be true to size. Accepted file .png
Email orders : vector file is recommended or same specifications as online orders. All artwork must be embeded and not linked. Prepared sheet must be (12″ x 16″). Transparent background. Email your order at [email protected]

Use spot colors when creating your artwork. Only use white in your design if it represents white ink and your design is shown on a transparent background.

All lines need to be a minimum weight of 2 pts. All negative spaces need to be a minimum thickness equivalent to 2 pts.

All colors are converted to Pantone colors. Some #hex colors don't have a close Pantone reference. Try hex to Pantone before submitting your order.

All orders that do not respect the art specifications will be printed as is. All artwork that is low resolution, fuzzy edges, low quality are susceptible to an art modification fee. We will contact you prior to printing.

290 Fahrenheit for 12 seconds (For heat sensitive material)
325 Fahrenheit for 8 seconds (General purpose)
Medium – Firm pressure
Lift carefully without lifting the transfer from the garment
Peel cold
Take the printed transfer away from the heat press and lay flat
Wait at least 30 seconds before peeling the paper
Warm – Cold water
Low tumble
Wash inside out
Do not put in dryer
Prepress the garment to remove moisture prior to apply the transfer.
Do not use parchment or teflon paper.
Wait 12 hours before stretching or washing the garment
It's important to make your own tests prior to production.
All heat presses are different, use our parameters as a starting point.
Accepted
- Spot colors
- Up to 5 colors per sheet
- Screen printed transfers
Not Accepted
- Gradient colors
- More than 5 colors
- Order digital tranfers instead